Hi All!
Welcome to July's edition of the Joyful Stars Bog Hop. If you're coming from
Marie's blog
then you're on the right track. If you're starting here, follow the links at the end of each post to circle 'round until you come back to where you started. If you get lost, you can go to
Joyce's blog
for the complete list.
Currently I am in sunny California soaking up all the sunshine at CTMH's annual Convention! But with all my preparation before I left, I wanted to share with you one of my saving grace's: the Pathfinding Card Kit. This kit came in *very* handy for me this week. Even as a seasoned scrapper, I needed the convenience of this beautiful kit.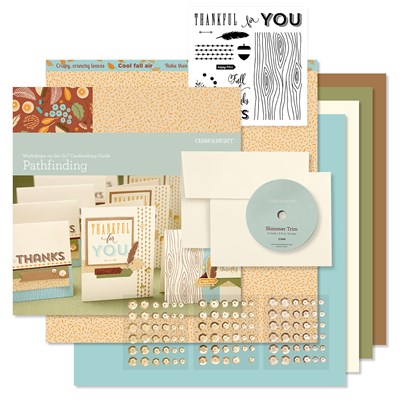 It always seems like I need thank you cards when I haven't been making them, and this past week was no exeption. I needed more than I had on hand. Cue the music! I rummaged through my stash (because we ALL have a stash!) and found this gem, unopened. I don't usually buy kits because - hello! I can do it myself. Famous last words! I remember buying this because I really liked the stamp set that came along with it. I loved the large stamp with the wood grain. I could do so many things with that stamp, I thought. Needless to say, it sat unopened most of the year. *sigh*
The card kit makes 15 cards total, 3 styles of 5 cards each. The stamp set and card designs are all exclusive to the card kit and it's very easy to cut and assemble with the included instructions. I made this kit in about 30 minutes, with help from my two little helpers. I then sent out most of them in the mail that day. Thankfully, I had enough to start my stash again, so hopefully, I won't run out soon. :) Unfortunately, I didn't take a photo of all the cards before I sent them out - oops! But here's one that shows how easy and beautiful they turn out to be! ;)
Now you're off to
Lori's blog
to see her pretty creation. See you soon!